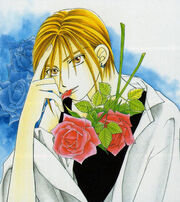 Hideaki Asaba (浅葉 秀明 Asaba Hideaki) is Yukino and Soichiro's lazy and girl-crazy friend, very handsome and popular. Although bright enough to be accepted to the selective Hokuei High School, Hideaki is a terrible student, and spends most of his time surfing or chasing girls. Hideaki and Soichiro are considered the two most handsome boys in school, and while Soichiro is largely indifferent to the attention, Hideaki makes the most of it. During their school's annual culture-fest, Hideaki's class mounts a "Hideaki Asaba Dinner Show" which is a big hit with all the girls, but gives Yukino and Soichiro the creeps. Due to his own dark past, he is one of the few people who truly understands Soichiro's dark side. In fact he frequently states that he would love to marry Sochiro, if only Sochiro was a girl. During Yukino and Soichiro's relationship crisis during their senior year, Asaba tells her that only she could reconcile Soichiro's heart. At the end of the series, Hideaki has become a famous painter, specializing in drawing female portraits in which the subject appears five times prettier. Maho realizes that this is because Hideaki truly sees women to be five times prettier than they actually are — which explains why he is so in love with all of them. Despite loving women in general, Hideaki has never settled down or married, waiting for someone. When he learns Yukino is pregnant, he declares the baby will be the girl he has been waiting for. Sixteen years later, the child was indeed a girl, their oldest daughter Sakura. Hideaki is torn about his father-like relationship to her as well as her young age, however Sakura takes the initiative and confesses her love for him and her intention to be his.
In the anime television series, Hideaki Asaba is voiced by Atsushi Kisaichi in Japanese and Liam O'Brien in English.
Ad blocker interference detected!
Wikia is a free-to-use site that makes money from advertising. We have a modified experience for viewers using ad blockers

Wikia is not accessible if you've made further modifications. Remove the custom ad blocker rule(s) and the page will load as expected.